Transports Solés sponsors the 34th edition of the Empordà Rally.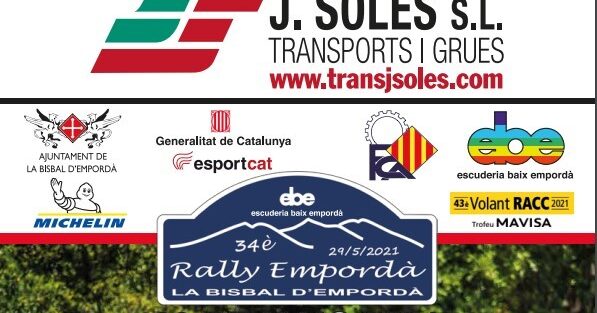 Excited to have the Empordà Rally back after a year of interruption! Following the lapse of 2020, in which this historical race could not be celebrated due to health reasons, the engines are back roaring again.
Transports Solés has once again sponsored this emblematic rally, which in 2021 reaches its 34th edition and was organized by the Escuderia Baix Empordà (EBE). It was held on a Saturday, 29th of May and covered a total of 87.4 kilometers, with departure and arrival in la Bisbal. Needless to say, there was lots of excitement, 120 authorized teams participated in the race, and as part of our tradition we were able to travel once again through the spectacular roads of les Gavarres. This test scored for the Championship of Catalonia.
The organization has been impeccable. The rally has had all the technical means and every human effort necessary to make it come about just as any first level race should. From Transports Solés we are extremely pleased to have provided absolute support so that this 34th edition has become an outstanding organizational and sporting success.
"The enthusiasm which was in the air during this rally has been impressive. We were all looking forward to the competition after two years without a race. Our congratulations to Escuderia Baix Empordà for such a professional organization. Our compliments to all the participating teams who have shown an exceptionally high level of sport," says Francesc Xavier Solés, owner of Transports Solés. He adds, "An excellent edition that leaves us wanting for more rallying. See you in the 2022 edition!"