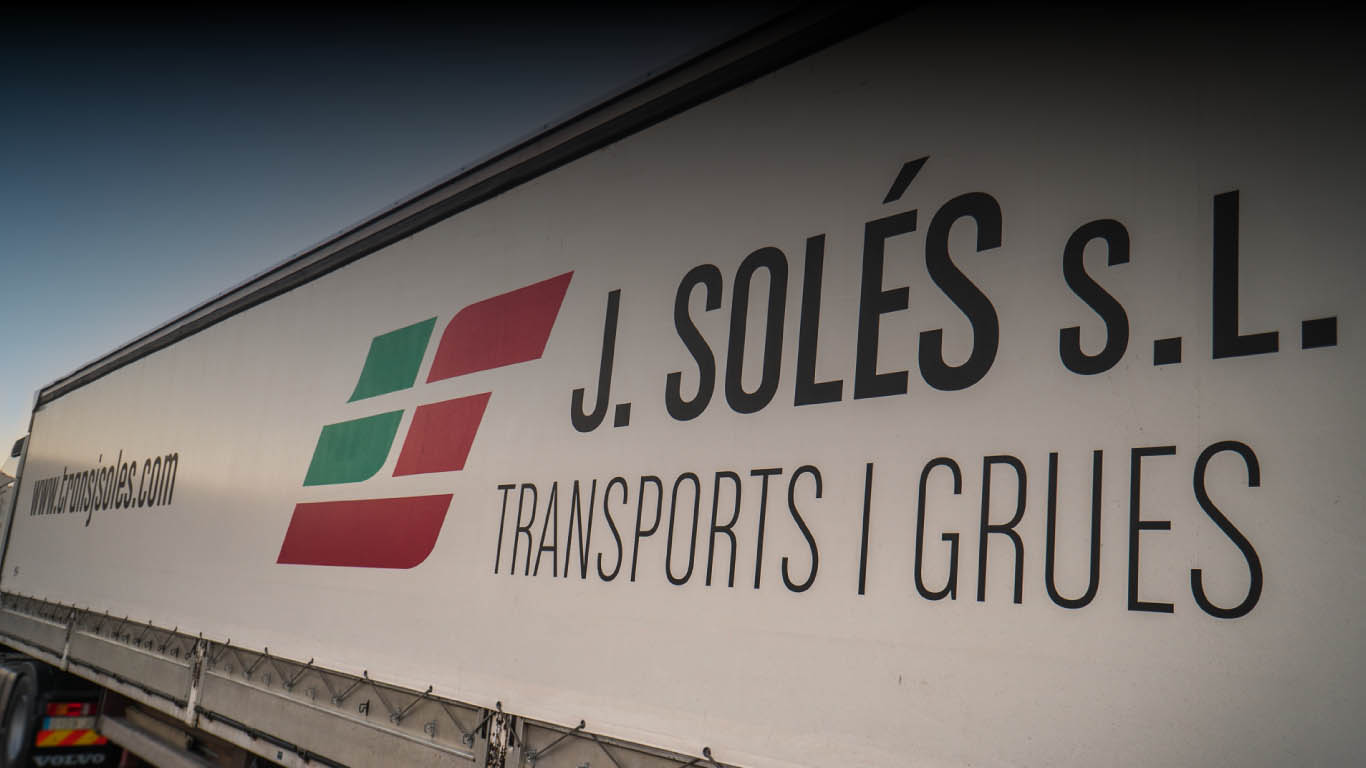 Transport and cranes since 1939
Transportes y Grúas J. Solés SL is a company dedicated to road transportation, specialized in full and fractional loads. We operate in the Iberian Peninsula and the European Union.
Our headquarters and logistics are located in the town of Vulpellac, in Girona. This location is strategically suitable due to its proximity to the border, highways and industrial areas of Baix Empordà.
From our offices we dynamically manage the activity of the company. We possess our own technology to carefully monitor the merchandise and optimize delivery times to the maximum.
Our staff is highly qualified. In addition, we count with a selection of external collaborators which allow us to cover an extensive range of routes, types of cargo and volumes, executing deadlines adapted to any order.
Constant innovation in transport and logistics.
Transports J. Solés labours without rest until obtaining solutions. Incorporating both technology, as well as the right professionals or infrastructures that allow us to be near, so that we can help our clients go far.
For example, we are 100% competitive in the integral logistics market, having been pioneers in the management of orders and stocking establishing warehouses for the custody of goods for our customers.
If your company, on a regular or occasional basis, needs to transport goods of any kind within the peninsular territory or the European Union, we are your ideal partner.
More than 125 years of history
Transportes J. Solés was born in the last quarter of the nineteenth century, at a time when the cork industry was at its peak. In those days, Joaquim Solés Ralló worked transporting firewood and cork, which he extracted from the mountains of les Gavarres and carried in a cart pulled by two horses and a mule.
His son, Vicente Solés Valls, worked with him: he was also a lumberjack and opened roads through Les Gavarres, from which he then extracted cork for the companies of La Bisbal, Palafrugell, St. Feliu and Palamós.
1892
Business growth
Josep Solés Sais, son of Vicente Solés, began working in 1939 after the Civil War. At the age of fourteen, his father bought him a wagon. It  happened that for a while, his father had heart problems, so they hired a man to take his place. When Vicente Solés recovered, they bought a third wagon and began transporting construction material as well.
1939
From wagons to our first truck
In 1962, Josep Solés acquired the company and purchased the first truck. He also got a concession to extract gravel from the Daró River. From then on, our work was wholly dedicated to the transportation of material for construction, a booming sector due to economical development and the popularization of tourism.
Joaquim Solés i Alsina entered the scene in 1967, in charge of the gravel extraction machine… due to the fact that at the age of 17, he was not able to obtain the license for driving trucks. In the next three years, Josep Solés purchased a fourth truck and expanded the company's workforce.
1962
Fourth generation
In 1973, Joaquim Solés completed his military service. Presently of legal age, he sells the gravel extraction machine and begins to drive his father's truck, since he suffered health problems and was forced to take a leave due to disability.
From 1976, Joaquim Solés would be in charge of the company owned by his father.
1973
Incorporation of the company
In 1989 Josep Solés and Joaquim Solés formed the business Transportes y Grúas J. Solés SL, with Joaquim Solés as sole administrator. The company then had four trucks with cranes, two trailers and a van and expanded its activity towards the Mediterranean Levant and southern France.
The offices were established in La Bisbal, in the Ponç Coll residence, where Vicente Solés had housed the horses and mules that pulled the carts in the first half of the twentieth century.
1989
National expansion
Joaquim Solés became sole partner in 1998. The previous year, his son, Francesc Xavier Solés Coll, joined the company.
In 1998, Francesc Xavier Solés opened a warehouse in Castellón de la Plana for his own use and to speed up the collection of material. Thanks to its efficient operation, it additionally became a logistic center for companies in the ceramic sector.
Under the management of Joaquim Solés, the company accomplished a vast national expansion. His great capacity for work, motivation for an effectively well-done job and impeccable management made it possible for a fifth generation to place itself at the head of the business.
1992
International expansion
Transports J. Solés undertook its international expansion with the opening of a distribution center in Bucharest in 2006, before its entry into the European Union. This logistics base opened its doors to the transport of ceramic material and wood from Romania to Spain and France.
In 2016, a warehouse was inaugurated in Modena, Italy, another large ceramic production center.
Today, Transports J. Solés, directed by Francesc Xavier Solés is a reference company, continuedly updated in technology and machinery. It has logistics centers in Vulpellac, Castellón, Onda, Modena and Bucharest and manages a fleet of 50 trucks per day.
2006
A company with a soul
Transports J. Solés is also a committed company. In the motor world, it exclusively sponsors the legendary Costa Brava rally the oldest in Spain, and a racing car. Likewise, it sponsors teams and offers logistical support in the sports events organized by the Fundació Oncolliga de Girona.
Transports J. Solés also participates in Projecte Xevi, an association of cooperation, humanitarian aid and solidarity with West African countries, especially in Senegal.
2022